Open lecture on European Democracy by Paul Blocker
On Friday 26 May, professor Paul Bokker, Associate Professor/Jean Monnet Chair "European Political Sociology" at the Faculty of Social Sciences/Institute of Sociological Studies of Charles University in Prague, gave an open lecture on European Democracy.
The Lecture took place at 16.00 at the Polo delle Scienze Sociali, building D4/106.
This open lecture proposes to explore social mobilization, claims-making, and bottom-up critique with regard to the economic austerity policies and non-democratic forms of policy-making that have emerged in EU crisis management, with a particular emphasis on transnational manifestations of critique. The attempt is to combine different scholarly approaches, including (political) sociological, socio-legal, political-economic and constitutional-theoretical analyses of "bottom up" reactions to the economic, financial, democratic, and constitutional crises that the EU seems currently affected by. An important emphasis is on the potentiality of (political) sociology in studying European integration and forms of critique and dissent.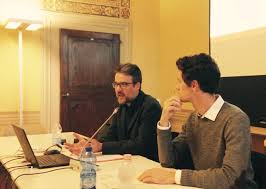 last update: 06-Sep-2018